NEW!! Navigation: where do you want to go next? Select from this dropdown list:
Welcome to the Camp Waupaca Reunion Group Website!
Your official source of Camp Waupaca Reunion Group news and activities!
(updated July 15, 2018)
2018 REUNION AT CAMP!!
We will have an opportunity to "visit" camp this summer, on Saturday August 11, from noon-2 PM. We will have lunch at the top of the waterfront, hold our annual board meeting from various locations, and just reminisce and have a good time! Our sincere thanks to Robin Anderson, CYJ Midwest Director, for allowing this visit. A donation will be made!! CLICK HERE to see the itinerary for Saturday and the whole weekend!! Join us, won't you?!?
2017 REUNION PHOTOS!
There were quite a few "official" reuinion acivities last year. Here are some photos:

(Greetings to the group from Lake Tahoe!)
L-R: Warren Metzdorff and Rick Passman!



L-R: Lori Huntoon, Mike Lurie



L-R: Mike Lurie, Todd Laff



(At Temple Israel, Minneaplis MN, on the occasion of Jim Feinstein's daughter's bat mizvah) L-R: Rick Shamberg, Glen Traeger, Mike Lurie, Joel Feinstein, Gregg Feinstein, Jimmy Feinstein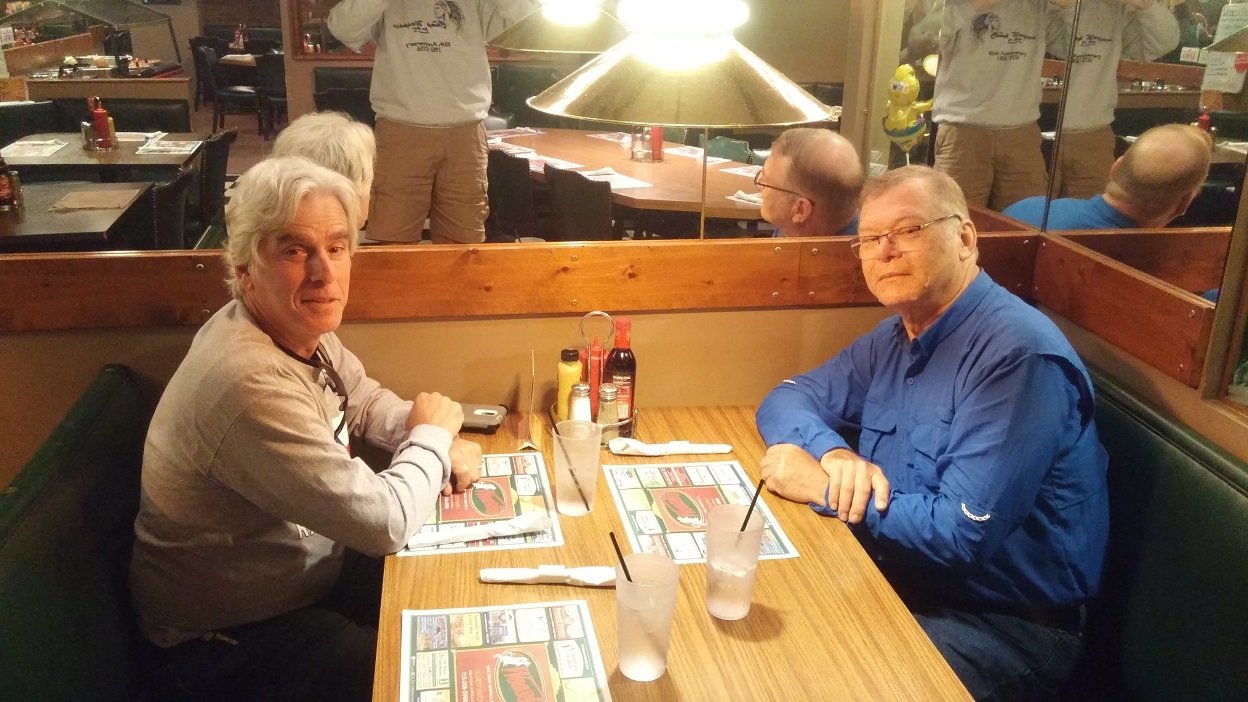 L-R: Rick Passman, Errol Grisard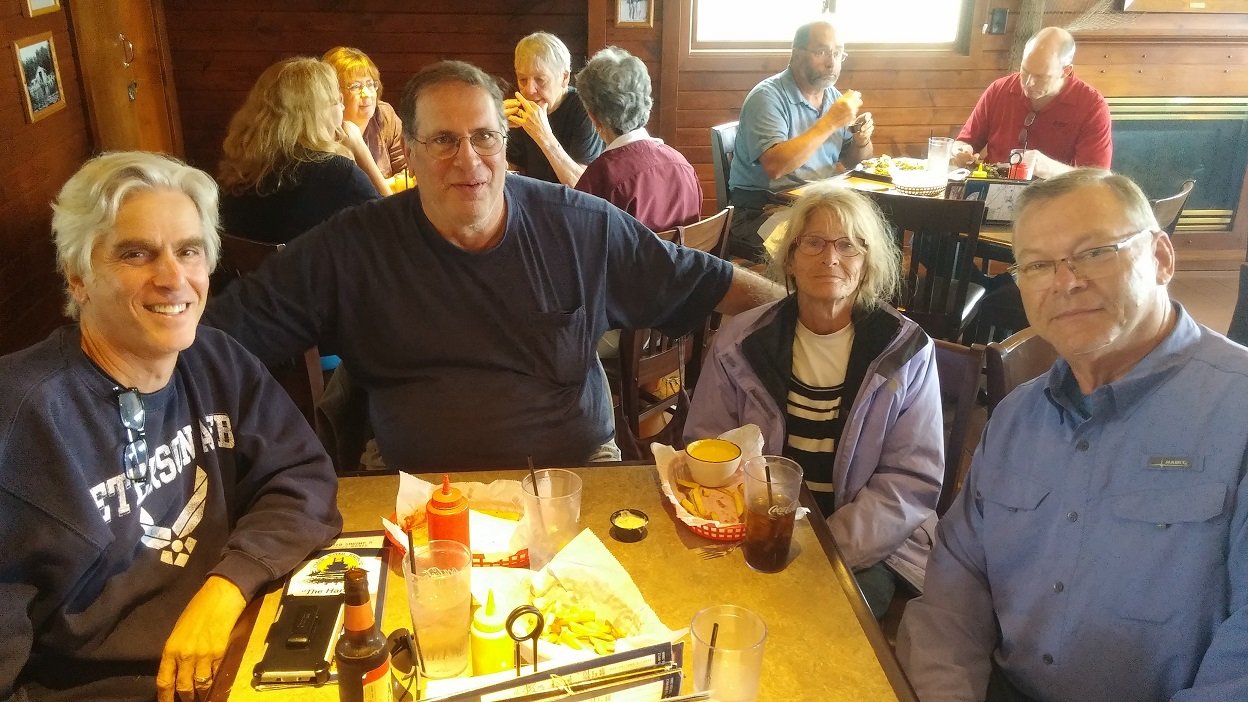 L-R: Rick Passman, George Lamm, Janet Lamm, Errol Grisard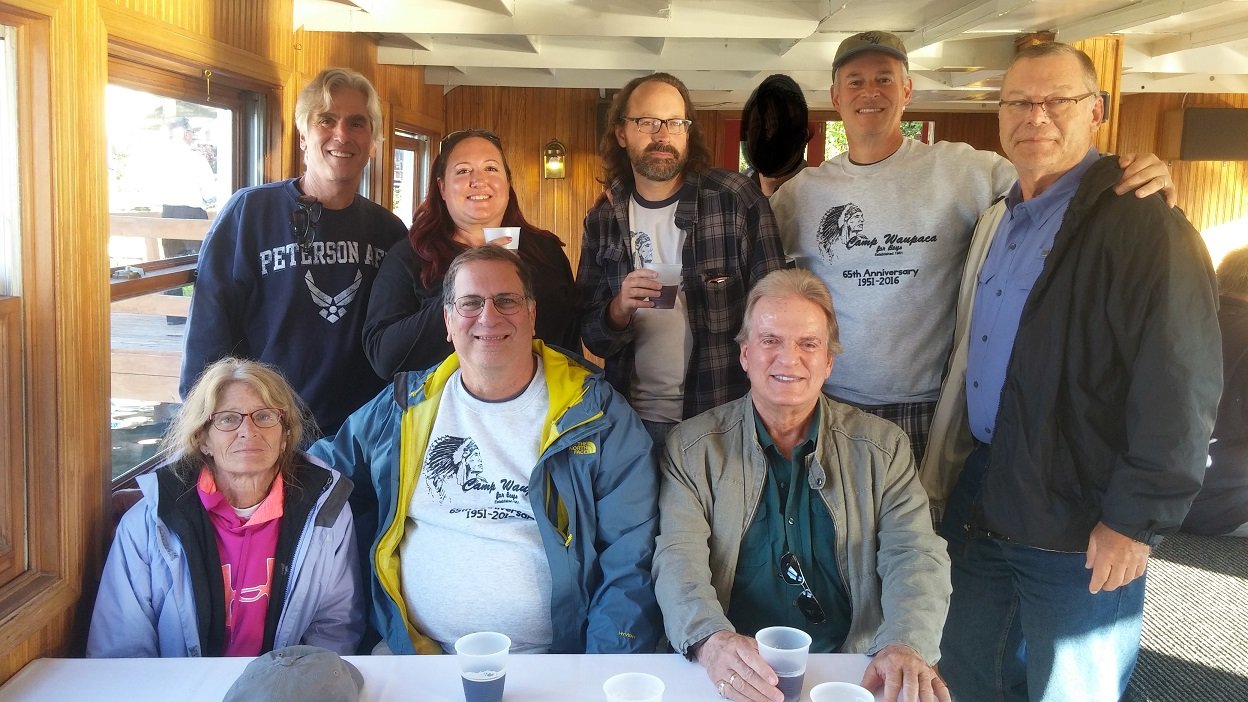 (Beer Boat Cruise!)
Top L-R: Rick Passman, Jeanine Levine, Scott Levine, (photo bomber obliterated), Mike Lurie, Errol Grisard
Bottom L-R: Janet Lamm, George Lamm, Warren Metzdorff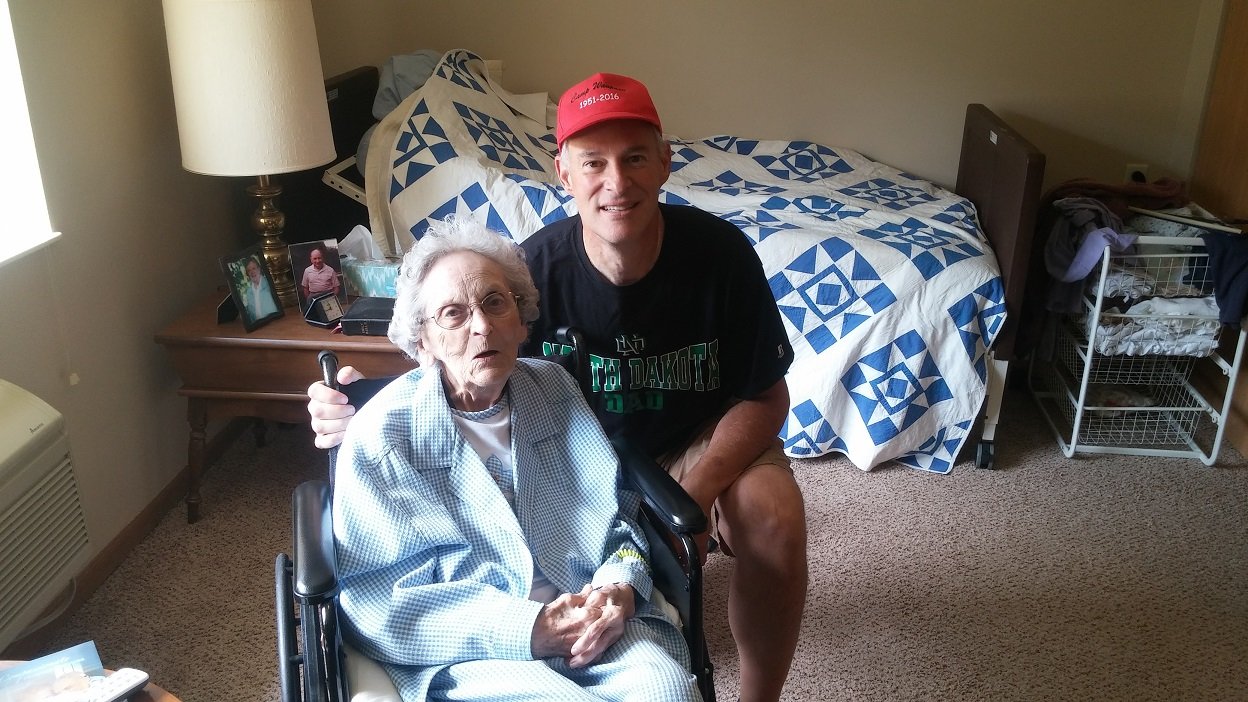 L-R: Corey Kramer from Kramer's Print Shop (now deceased), Mike Lurie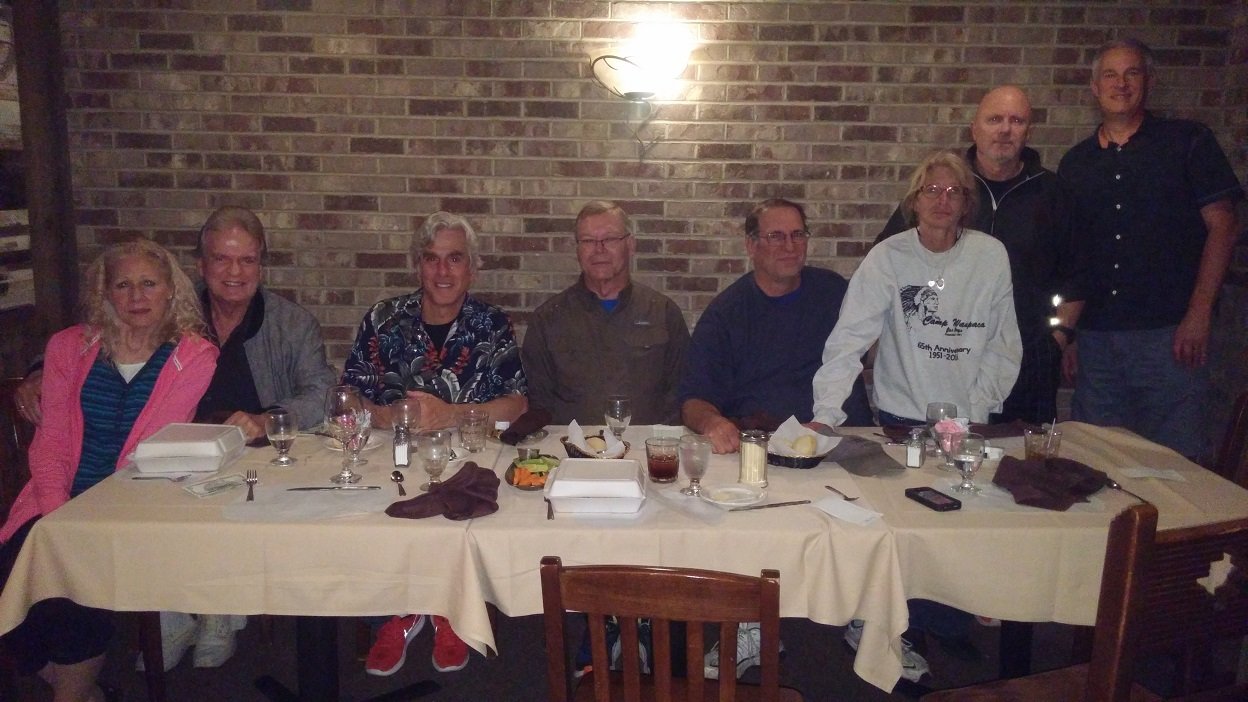 (Final Banquet at Simpson's Restaurant!)
L-R: Anna Metzdorff, Warren Metzdorff, Rick Pasman, Errol Grisard, George Lamm, Janet Lamm, Ben Zalay, Mike Lurie



(At Starbucks in NBK, Waukegan & Lake Cook Rd)
L-R: David Lewis (visiting from Israel), Dick Garb



(Morning after a Paul Warshauer original murder mystery in Mankato, MN)
L-R: Mike Lurie, Paul Warshauer



(At an all Minnesota reunion in November)
L-R: John Rosenberg, Rick Prizant



(At an all Minnesota reunion in November)
L-R: Tony Edmonds, Jeff RIssman, Paul Warshauer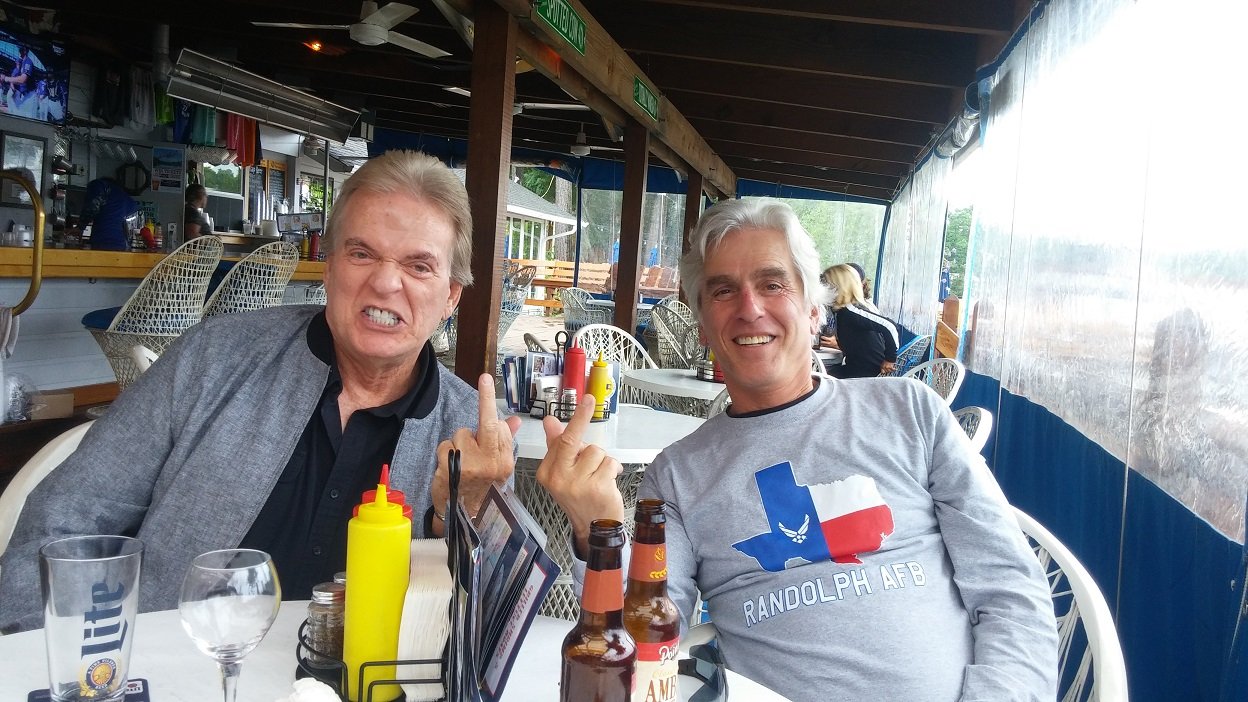 Thats all, folks!



Thinking of visiting camp any time soon? Remember: Please do NOT go onto Camp Young Judaea (our old Camp Waupaca) property. We will have another on site reunion when the younger former campers get off their butts and organize one!

©1996-2018 the Camp Waupaca Reunion Group,
Wayne Towne Stories!
The Wayne Towne stories are starting to be published! CLICK HERE to go to the Wayne Towne stories page! More stories will be added over the next several weeks leading up to the big reunion in August!
Get Your 2016 Reunion Gear Today!
We have extra t-shirts and sweatshirts and hats for sale to commemorate the 2016 reunion and the 65th anniversary of camp! Order yours today! These items are available on eBay - just click the appropriate link to go to eBay to complete your purchase. Quantities are limited!
Board of Directors News
On Saturday August 13, at the horseshoe around a campfire, your Board of Directors met to conduct the annual meeting of the Camp Waupaca Reunion Group. Of note: 1) The Board agreed to add a business network page to our most power equipped website. Send us a business card and we will add it to this new page. 2) The Board unanimously agreed to name Dick Garb as an honorary board member. Dick is very active behind the scenes of our group, putting us in contact with many alumni not already on our list, or alerting us to a passing. Along with his complete support for our efforts, we felt it was finally time to name Dick to our board in an honorary position. Congratulations, Dick Garb, and thank you for your endless contributions to our cause! 3) Discussions about future reunions were held. It was suggested that a handful of financially able alumni underwrite the next reunion, and we invite members to attend for free and just contribute what they felt the weekend was worth. This will require further board consideration.
Coming Soon . . .
Watch for some reunion pictures, the official time capsule, an updated Board of Directors page, reunion hats, t-shirts, and sweatshirts for sale, and the new business networking page!
Forever and forever, Waupaca!
All content © 2018